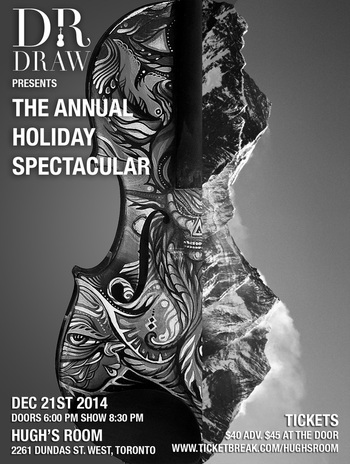 Due to popular demand, Dr. Draw's annual Holiday spectacular is returning to Hugh's Room this December 21st.
To compliment the beautiful sound and atmosphere of this intimate venue we've had the Dr. Draw songs you love skilfully orchestrated for an experienced string ensemble, thus enhancing the energetic Dr. Draw performance with new layers and depth.
Expect to hear fresh renditions of Holliday classics, and as well a few new compositions from an upcoming album.
We're extremely excited for you to hear the newly refined sound of the Dr. Draw band enhanced by a luscious string ensemble. This will be a night you will never forget.
Keep in mind that this will be a one night only show, so make your ticket or dinner reservations at your earliest convenience by clicking
HERE
.
Keep in the loop and RSVP online by joining the Facebook event. Click HERE. Don't forget to invite your friends!