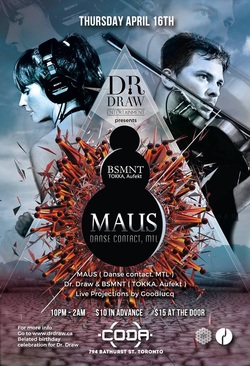 This year, for my annual birthday event, I decided to throw a proper jam at an amazing, great-sounding venue with awesome talent.
Maus is one of my favourite DJs and every time I find my self in Montreal I make sure to catch her set at Le Salon Daome.
Also, my musical partner, BSMNT, and I will be releasing our new EP under the newly formed TOKKA outfit. I describe Tokka as symphonic techno that breaks through the limitations of popular electronic music with genuine emotion and energy.
When we perform live, BSMNT juggles the drums and an impressive array of synths while I make sweet love to my violin alongside him.
This being a special occasion, we've brought in our very good friend and video partner at Goodlucq and his crew are setting up a crazy video installation that will include 3D mapping technology.
Dr. Draw Entertainment Presents:
April 16th 2015
MAUS (danse contact, MTL)
Dr. Draw &
BSMNT
(TOKKA, Aufekt)
Live Video by Goodlucq
10pm - 2am
10 $ in advance 15 at the door
CODA 794 Bathurst St. Toronto
To purchase tickets click here:
RSVP
to the
facebook
event
HERE